Following up a great start in 1st race, Team Baghdad followed that up with a good 1-3 record to lead the fleet on 5 points. The closest boats are Bahamian boats Ali Baba and New Moon, 11 and 13 points respectively.
All in all it was a good day. We had opportunities in the last race as well but did not play the downwinds good enough. In any case, the conditions were great with good breeze and beautiful sunshine. We could not have asked for more. Let's just hope we get a similar day tomorrow. The wind will turn south but will hopefully be strong. We like that, says front crew Anders Pedersen.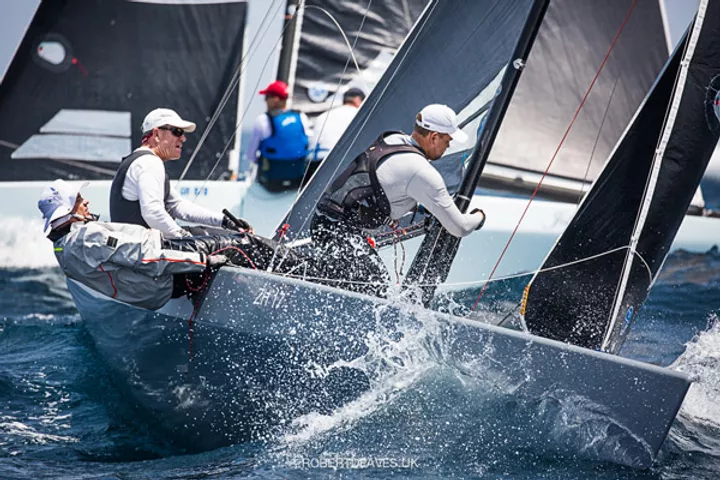 Robert Deaves further writes on 5.5class.org that: Artemis XIV (NOR 57, Kristian Nergaard, Johan Barne, Anders Pedersen) was again the boat of the day at the 2020 International 5.5 Metre World Championship, in Newport, Australia, to lead the fleet after the second day of racing. Artemis XIV opened the day with a huge race win, before 2018 World Champions, New Moon II (BAH 24, Mark Holowesko, Christoph Burger, Peter Vlasov) took the second race of the day.
With a building north-easterly forecast, the fleet set out on time to clearing skies and rising temperatures. Race 2 started in 8-10 knots and Race two in 10-14 knots with the full northeaster only beginning to fill in on the final upwind to around 16 knots, followed by a great sail downwind into Broken Bay in the increasing breeze. Temperatures also built during the day to around 30 degrees. Pretty much everyone returned to the Royal Prince Albert Yacht Club, happy and satisfied after a great day of sailing.
Artemis XIV picked up where they left off on Thursday with an emphatic win in Race 2, leading at every mark and extending away from the fleet. Behind them, there was a battle between three or four boats in the light wind and long legs. Eventually Ali Baba (BAH 23, Craig Symonette, Flavio Marrazi, Will Alloway) emerged in second with Ku-Ring-Gai II (AUS 60, Matt Crawford, Rob Crawford, Matt Visser) sailing a great last beat to finish third in their first event together as a team.
With the wind increasing the front-runners changed, with New Moon II finding some pace to round the top mark just a boatlength ahead of Artemis XIV. It remained even down the first run, but with the left increasingly paying in the building breeze they moved head and extended on the second downwind and up again to the finish for a win of nearly a minute. Fellow Bahamians John B (BAH 22, Gavin McKinney, Mathias Dahlman, Lars Horn Johannessen) also sailed a great final upwind to cross second while Artemis XIV was third.
The racing continues with another two races tomorrow and for a total of 9 races in total.