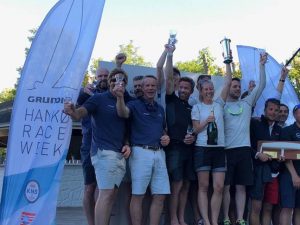 Hankø Race Week offered another set of conditions on the very last day of the regatta. Shining sun and light breeze meant very challenging conditions. Even though Team Baghdad I won the last race, it still wasn't enough to hang on to the lead. Storm Capital Sail Racing with Peter Jahre at the helm sailed better and better as the regatta went on and posted two wins on the last day before sitting the final one on the trailer.
Finishing among the top teams was still great because there are a lot of good team out there, concludes Team Baghdad captain Kristian Nergaard. We will remember the good parts of our sailing this week and take our hats of for Storm, continues the helmsman.
Team Baghdad II sailed an even series with pretty much only top 5 finishes but failed to post any bullets. The team climbed through the list but missed out the podium with only one point.
We had a really good regatta at the Nationals and obviously hoped for something better, says Team Baghdad II tactician Christen Horn-Johannesen. …but still it was a nice regatta and finishing 4th is still pretty good result. We'll rebound from here summarize Christen finally.