After 8 great races, we managed to win the tightest of victory at the Garda Cup in Lake Garda. Coming into the final day trailing the bahamian crew in "Blue Moon" by two points, we inched a bit closer with a great win in the first race of the day. The prerequisites were clear, whoever were first of the two boats in the last race would win the regatta.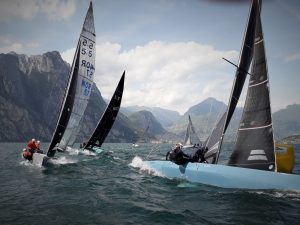 After a pretty mediocre start, we were still able to recover good on the first beat and rounded the first mark just behind "Blue Moon". At the hoist we were able to dive deep and sailed the whole run parallelling them for an inside rounding at the bottom. From then on, it was a matter of matchracing covering just to make sure they wouldn't stand a chance of passing on the remaining leg.
Obviously, the results were great and we are really happy. Especially considering we haven't sailed the 5.5 for almost two years. Due to other committments we stood out the Worlds last year but are really looking forward to this year's Worlds in Cowes later this summer.
The crew of "Blue Moon" (Mark Holowesko, Christoph Burger and Peter Vlasov) certainly deserves a congratulations as well. They sailed really well and pushed us hard. We both finished on equal points but we won the regatta having three race wins to their only one. Most certainly they will be one of the hardest competitors at the Worlds.
Place
No
Name
Points
1
2
3
4
5
6
7
8
1
NOR 57
KRISTIAN NERGAARD, JOHAN BARNE, TROND SOLLI SÆTHER, ROYAL NORWEGIAN YACHT CLUB ARTEMIS XIV
18,0
1
1
6
(7)
2
4
1
3
2
BAH 21
MARK HOLOWESKO, PETER VLASOV, CHRISTOPH BURGER, NASSAU YACHT CLUB NEW MOON
18,0
3
2
(9)
1
3
3
2
4
3
SUI 228
JÜRG MENZI, JÜRGEN EIERMANN, CHRISTOF WILKE, THUNERSEE YACHTCLUB TYC MARIE-FRANÇOISE XIX
25,0
2
5
(10)
8
1
1
7
1
4
BAH 22
GAVIN MCKINNEY, LARS JOHANNESSEN, MATHIAS DAHLMAN, NASSAU YACHT CLUB JOHN B
34,0
5
3
4
2
7
5
8
(9)
5
SUI 214
BERNARD HAISSLY, BERTHOUD NICOLAS, STAMPFLI DANIEL, CV SN GENIVA CARACOLE
36,0
4
6
1
(9)
5
7
5
8
6
ITA 79
MARCO BONZANIGO, SILVIO SANTONI, GIOVANNI ARRIVABENE, LEGA NAVALE MILANO 5BILLY5
36,0
10
10
(11)
5
4
2
3
2
7
NED 26
AREND JAN PASMAN, RON AZIER, KIM CHABANI, WSV BRASSEMERMEER FENG SHUI
43,0
6
8
2
6
9
(ocs)
6
6
8
SUI 213
HANS-PETER SCHMID, GILBERT DÜRR, JÖRG SONNTAG, SCM / TYC PUNGIN
43,0
8
7
5
4
6
6
(9)
7
9
SUI 201
TOBIAS ISLER, STAFFAN LINDBERG, SCE ZICCA
47,0
7
4
8
11
8
(dnf)
4
5
10
GER 83
JOERG GRUENWALD, MICHAEL SCHULZ, DOMINIK ZYCKI, HSC HAMBURGER SEGEL CLUB SILVERFOX
59,0
9
11
3
3
10
(ocs)
10
dnf
11
AUS 61
MARTIN CROSS, MARK GRIFFITHS, ROYAL PRINCE ALFRED YACHT CLUB ALPHA CRUCIS
66,0
(11)
9
7
10
11
8
11
10
12
SUI 209
BENT CHRISTIAN WILHELMSEN, LUKA STRAHOVNIK, LASSE BERTHELSEN, SNR OTTO
91,0
(dnf)
dnf
dnf
dnf
dnf
dnf
dnf
dnf