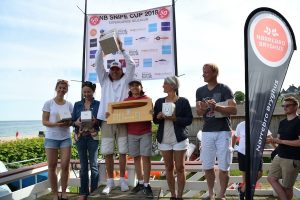 Kristoffe Spone and future Baghdad prospect Fabian posted a great a convincing win at the Open Danish Snipe Championships in Espergærde just recently. With a scoreline of 1-2-4-1-(7)-2 and a total 10 points, the crew were head and shoulders above the rest of the fleet. Big congratulations!
On www.snipetoday.org, Henrik Wulff writes:
On Saturday we had 3 great races with stable southesterly winds 8-15 knots. Christofer & Fabian Spone 1,2,4 (Norway), Manu & Maj 3,3,10 (Belgium ), Anette & Janett 10, 6, 1 (Norway), Jostein & Karen 5,5,8 (Norway) and Yannick & Dirk 9,5,5 (Belgium) found them selves at the top of the leaderboard at the end of the day.

Sunday were more challaging as only 1 race was secured in southesterly winds 4-9 knots. The sailors waited for wind, but were sent in as the it would'nt fill in. Once again Spone (Norway) showed the way as they won the race folllowed by Henrik & Henriette (Denmark) on 2 nd and Jonatan & Felix (Denmark) on 3 rd. The top 5 were the same.

Monday showed to be even more challaging as the sailors had to wait for allmost 3 hours for the wind to fill in. When it came, it was very ligt and puffy with 4-8 knots. In the first race Henrik & Henriette (Denmark) took the gun on a shotened cource, followed by Jostein &

Karen (Norway) on 2 nd and Anette & Janett (Norway) on 3 rd. In the last race there were serveral led changes as the wind died, but in the end it was Yannick & Dirk (Belgium) on top, folowed by Spone (Norway) on 2 nd and Jonatan & Felix (Denmark) on 3 rd – Felix is Jonatans 8 year old son – Great sailing by father and son.

Durig the prizegiving Jan & Jane were well earned celebrated for their tremendous work in organizing this traditional regatta through out the years.
Kristoffer won't be able to rest on his laurels as Norwegian Championships in soon on the agenda. Good luck.