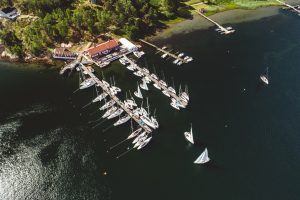 Hankø presented itself in the mest possible manner on the first day of Hankø Race Week. The breeze were already windy with around 16-18 knots of wind speed. However, in the last race of the day, the sky cleared up and the breeze really turned on the afterburner.
Team Baghdad started the regatta in a good way straight from the start. With a scoreline of 3-1-2, the team sits comfortably at the top of the table.
It was great fun, explains Espen Stokkeland. The breeze were up and the downwinds were really exciting and fast. We hold together well, stuck to our race plan and that worked out well for us.
Tomorrow the weather forecast shows a totally different scenario. Instead of Southerly breeze with plenty of waves, the breeze will come from the north and expected flat water conditions.
The Shifts will be both more frequent and bigger. It's a completely different ball game. Bring it on; We're ready for it, concludes Kristian smiling
Complete results here.