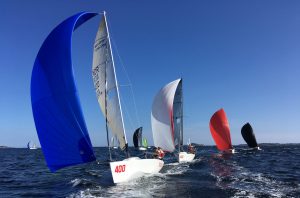 It's been 15 long years since last winning the Melges 24 National Championships but this year Team Baghdad 2 were back at the top. After several Silver medals they were back in Gold. Not only did they became Norwegian Champions, the regatta also counted as Nordic Championships.
The regatta gathered a record fleet of 40 boats and it all came down to the very last race but with a 4th place there, Baghdad 2 secured the title with 6 points to spare.
Yes, it was great to finally win here. Then we are one step closer to our main goal: to win the King's Cup says helmsman Kristoffer Spone.
That trophy is the prize for winning the Champion of the Champions in Norway later this year.
Unfortunately, Baghdad 1 was not in similar form. Despite a nice win in the very last and windy race, the team ended up on 7th place.
Kristian Nergaard on Baghdad 1 sums it up as: At this stage we're not good enough to score better.
Results:
Rk.
Sail
Number
Boat
Name
Club
R1
R2
R3
R4
R5
R6
Total
Net
1
NOR
697
Lisa Baghdad II
Kristoffer SPONE
KNS
-7
1
2
2
4
4
20
13
2
NOR
628
Nortek Sailing Team
Andreas Sola FISCHER
CSSF
3
-13
7
1
1
7
32
19
3
NOR
732
Team RRH
Stian NESS RØRVIK
KNS
4
4
4
5
-28
3
48
20
4
NOR
787
BLOW
Peder NERGAARD
FRED
5
3
1
4
-13
8
34
21
5
NOR
751
Storm Capital Sail Racing
Peder JAHRE
TØSF
BFD
7
5
7
2
2
64
23
6
DEN
840
Bodil
Marc WAIN PEDERSEN
9
-15
3
6
8
13
54
39
7
NOR
600
Baghdad I
Kristian NERGAARD
KNS
11
8
-19
17
5
1
61
42
8
NOR
418
Parody
Henrik LARSEN
TRHJ
2
6
8
20
-25
10
71
46
9
NOR
649
HTB Racing – Party Girl
Jens Altern WATHNE
ASKØ
10
-23
15
8
9
6
71
48
10
SWE
715
Jonas BERNTSSON
1
16
17
3
-21
18
76
55
11
NOR
585
Spica Bernt
Ove BESSESEN
CSSF
14
11
14
-32
3
14
88
56
12
DEN
779
Salty Dog
Peter WARRER
Århus Windsurfing Klub
BFD
2
10
35
6
9
103
62
13
NOR
343
Virgo Sailing Team
Tomas MATHISEN RISØ
16
10
6
-31
16
15
94
63
14
NOR
743
Salt 6
Leif Kristian GARVIK
RAN
6
-31
12
13
17
17
96
65
15
NOR
706
Kaboom Gisle
BJØRSRUD BØ
CSSF
17
-22
11
14
19
5
88
66
16
NOR
592
Renegade
Christoffer SOLGAARD JAKOBSEN
KNS
18
5
20
19
7
-23
92
69
17
NOR
402
Lunacy
Carl-Erik Berentsen KULLMANN
Herslev Strand Sejlklub
-25
14
13
21
12
12
97
72
18
SWE
666
Miss Devil
Tomas SKÅLÉN
BFD
24
9
15
14
16
119
78
19
NOR
307
Helo Dag
Rune WIKSTEN
LAVI
24
9
-27
16
11
21
108
81
20
NOR
400
Team BITPRO
Trond BJORVAND
CSSF
8
18
18
25
-27
20
116
89
21
NOR
724
MÅS – Moro Å Seile
Gard Jakob ØRKA
BÆRU
12
12
21
26
22
-29
122
93
22
NOR
487
Igland Garasjen
August AUSTEFJORD
GRIM
20
26
24
-27
15
11
123
96
23
GER
612
Laika
Lennart BURKE
SSVH
15
-33
16
12
29
27
132
99
24
SWE
683
exilia racing
Calle PIHLGREN
Haderslev Sejl-Club
BFD
21
23
18
20
19
142
101
25
NOR
745
Javacup U30
Olai HAGLAND
STAV
BFD
20
29
23
10
28
151
110
26
NOR
366
Without
Eivind FERAGEN
AREN
29
17
-34
11
34
26
151
117
27
DEN
634
Play
Anders NYBROE
Herslev Strand Sejlklub
13
28
26
24
26
DNF
158
117
28
NOR
799
BLACK JACK
Dag BUCH
FASU
26
19
BFD
9
DNS
25
161
120
29
NOR
294
Carrera
Jan HELLESMARK
Kaløvig Bådelaug
19
25
25
-36
30
24
159
123
30
NOR
642
Leia
Erik CHRISTENSEN
23
30
BFD
22
24
33
173
132
31
NOR
374
Stompen
Rolf Anders STUMPF
CSSF
27
-35
31
30
23
22
168
133
32
NOR
632
Stormfokk
Mauritz TALSETH
TRHJ
22
32
22
-34
33
32
175
141
33
NOR
645
Back in Black
Preben ASBJØRNRØD
32
29
28
28
BFD
30
188
147
34
NOR
560
Siste Liten
Ingvald MILJETEIG
STOD
33
38
30
10
DNF
DNF
193
152
35
SWE
574
Doris
Johan STENHOFF
Nykøbing Sjælland Sejlklub
BFD
27
35
37
18
35
193
152
36
NOR
534
Fast Lady
Geir TUFTELAND
VÅGS
28
-39
38
29
31
34
199
160
37
NOR
357
T20%C
Bjørn STIEN
VÅGS
34
34
-37
33
36
31
205
168
38
NOR
733
General Lee
Inge SKAAR
STOD
30
37
33
-39
35
36
210
171
39
NOR
249
Brio
Jan Otto JAHNSEN
VÅGS
21
DSQ
32
38
BFD
DNF
214
173
40
NOR
755
Lille 2 OB
Carl Edward JANSEN
ASKØ
31
36
36
40
32
DNF
216
175