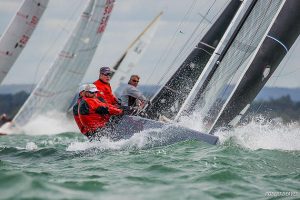 As it always in nice to finish on a high, it is hard to be disappointed for the team on Artemis XIV as two good races on the last day elevates the team on to the podium giving Bronze medals.
Not surprisingly, «New Moon», BAH 21, Mark Holowesko, Christoph Burger and Peter Vlasov won the Championships in the end. "Marie-Françoise XIX", SUI 218, with Jürg Menzi, Jurgen Eiermann and Danish Bo Selko took silver in front of "Artemis XIV", NOR 57, Kristian Nergaard, Kristoffer Spone and Trond Solli-Saether who had a good end to the regatta after being in 5th place before the last day.
In the last race, "Artemis XIV" was in the 2nd place behind "Clark Kent", NOR 64, with Petter Fjeld, Peter Hauff and Christen Horn Johannessen. "Artemis XIV" got past and won the race. It was sufficient to secure bronze for Nergaard & Co. Actually it could even have been silver as the final points were tied with the swiss boat but the latter team finished a place higher on countback.
Final results can be found here.