As translated from seilmagasinet.no and Morten Jensen:
"It's just been a good year," Kristoffer Spone sums up after the Nationals in Express has finished in Stavanger. There he won together with , Hans Jørgen Bauck and Kjell Arne Myrann – all from KNS. That they were only three on board, Kristoffer Spone explains:
As Peter Hauff, who should have sailed on the team, was prevented from sailing on the first day of the championship, Friday, we chose to go sailing with only three on board. The weather forecast was correct for our choice, but when it blew 8-9 m / sec on the last day we struggled through the day. With good start and good sailing we managed two 2nd and two 4th place. We were pleased with that.
This year's third National Championship title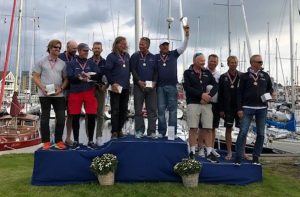 And it was a victory, even though it was even. They ended with same points with Kristian Nergaard, Trond Solli-Sæther, Espen Stokkeland and Erik Kongshaug, but because Spone and his team had more wins in the 10-race long championship, they won.
Kristoffer Spone and Kristian Nergaard both belong to what they call Team Baghdad who collaborate to sail and participate in several different classes, and of course they were pleased with the team effort.
With the Express title, Kristoffer Spone took his third for the year. He became first Norwegian champion in Melges 24, then in Killing and now also in Express.
Three golds in the three biggest keelboat classes in Norway with over 40 boats on the line, I'm pleased with, says Kristoffer Spone, who has also won NM bronze in Snipe together with Karmen, his daughter this year.
As Spone is already a champion in Melges 24, the champion's champion goes to Kristian Nergaard and his team.