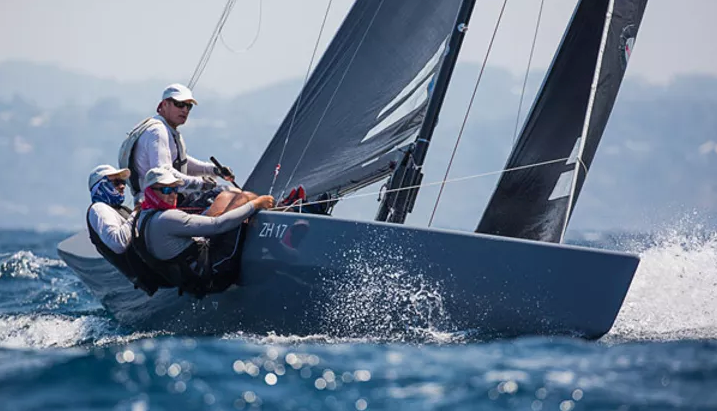 Artemis XIV (NOR 57, Kristian Nergaard, Johan Barne, Anders Pedersen) opened their defence of the 5.5 Metre Scandinavian Gold Cup with a last minute win in the first race sailed on Saturday in Newport, Australia, overtaking Beta Crucis (AUS 63, Martin Cross, Bob Stoddard, Martin Bunch) in the final stages.
Excerpt from article at 5.5class.org by Robert Deaves
The forecast predicted some spectacular conditions with 37 degrees and 20-25 knots from the north-west – an onshore breeze in the Palma Beach Circle. It is a long way from the host club, the Royal Prince Alfred Yacht Club, but was worth every mile with an amazing race in perfect conditions. However it soon turned into a race of attrition with only three of the six boats finishing and most suffering some damage during the day.
Beta Crucis dominated the race, leading at the first mark and extending round the first two laps. A collision between New Moon II (BAH 24, Mark Holowesko, Christoph Burger, Peter Vlasov) and Otto (SUI 209, Bent Christian Wilhelmsen, Luka Strahovnik) left Otto the first to sail for home, soon followed by Shaolin (SUI 226, Golchan Cyrus, Andreas Kindlimann, Hans von Werdt) with a broken forestay. With the wind gusting 27 knots, Girls on Film (GBR 40, Peter Morton, Andrew Palfrey, Andrew Mills) also pulled out to leave Beta Crucis holding a nice lead on Artemis XIV and New Moon II.
Artemis XIV found second gear on the final round to close the gap but couldn't quite catch Beta Crucis. But in these conditions it is not over until it is over and Beta Crucis lost their 200 metre lead in the closing stages after broaching on the final gybe to watch helpless as the current World Champion and holder of the Scandinavian Gold Cup, Artemis XIV, sailed past to take the first victory. A long way behind them New Moon II was also in trouble with a broach and a lost spinnaker.
Martin Cross said, "A really exciting first day. As forecast 37 degrees and up to 25 knots of wind. We started off with just less than 20 knots and it built to about 27. We had a great race up until the final 100 metres when we had to put one final gybe in and unfortunately we lost it and lay on our side and it allowed Kristian to sail through. But he sailed really well and obviously deserves it on the basis of having a great final gybe in around 25 knots, so congratulations to him on the first win of this Gold Cup."
Norway's Olympic Finn sailor, Anders Pedersen, is sailing with Artemis XIV this week. After just two hours practice in a 5.5 Metre, he has won his first ever race in the class.
"It was a nice day. The breeze built more and more so in the end we had 25 knots and huge waves with surfing conditions, so it was a really nice day."
"We were second the whole race. The first guys were sailing really fast but they capsized on the last downwind. We caught up a lot on the last round and I thought we were going to catch them on the run, but luckily for us they capsized but they did a good job."
How did he come to be here? "I got asked by Kristian in the summer if I wanted to come to Sydney, and it suited me well since I came straight from the Finn Gold Cup in Melbourne, and I will also go back to Melbourne for some Finn training afterwards, so this is a nice stop to do something else."
On the class. "Its great. It's hard racing. Competitive guys, the boats go a very similar speed, so it's a very tactical boat and fun sailing. It's long races, but they don't feel as long as they do in the Finn because your legs are having a much nicer time. I am on the spinnaker pole, so that's a challenge for the first time, so there's a lot to learn still."
The Scandinavian Gold Cup continues Sunday with two races scheduled. The forecast is for 20 knots from the south. The fleet will also be joined on the water by the rest of the 5.5 Metre here in Pittwater as they race for the Class Cups for Classics, Evolutions and Moderns.
Results after Race 1
1 Artemis XIV NOR57 Kristian Nergaard 1.0
2 Beta Crucis AUS63 Martin Cross 2.0
3 New Moon BAH24 Mark Holowesko 3.0
4 Otto SUI209 Bent Christian Wilhe DNF
4 Girls On Film GBR40 Peter DNF
4 Shaolin SUI226 Cyrus Golchan DNF