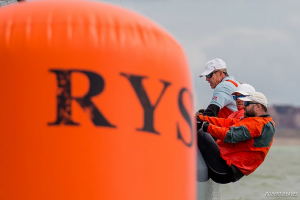 (From 5.5class.org) One race was all that was needed for Artemis XIV, NOR 57, (Kristian Nergaard, Kristoffer Spone, Trond Solli-Saether) to win the Scandinavian Gold Cup on Friday, at the Royal Yacht Squadron, with a one-on-one match race against Marie-Françoise XIX, SUI 218, (Jürg Menzi, Jurgen Eiermann, Bo Selko). Only the previous race winners move forward to this final stage and the first to win three races wins the Gold Cup. Artemis XIV only needed one more win to secure victory; Marie-Françoise XIX needed two wins.
However, the two former champions needed just one light wind final race, which the Norwegians led from start to finish to make it three race wins in a row, and take home the 99 year old trophy to Norway.
The Scandinavian Gold Cup is a strange format but one that is a strong tradition in the 5.5 Metre class. On winning for the tenth time (including three times with his father) Nergaard said
It's always nice to win this traditional trophy. Some people may say it's a bit old-fashioned these days, but it's an old tradition of the class and very nice to win. It's also not easy to win. It's my first win since 2010 and I have done all of them since then.
The conditions were in complete contrast to the previous day with sunshine, and a short postponement waiting for the light breeze to arrive.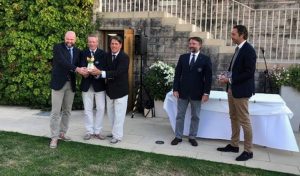 After a few match race manoeuvres, Artemis XIV started above Marie-Françoise XIX and controlled the race all the way. At the first mark, she was 20 seconds ahead and extended this on each leg to win by around 90 seconds. As usual the current played a decisive role.
Today we had a very strong current, and a short start line. It was really hard to keep the boat going to make the windward mark
Nergaard explained
We chose to let Menzi start underneath us, and luff us, knowing that the current would bring us back down. So we were ahead at the start, but he managed to sneak through underneath us and forced us to tack off. But when he tacked we were in shallower water I think and we got ahead. We rounded the top mark ahead and after that just extended, Nergaard explained.

The guys did a great job for me both technically and tactically, so I am very happy with them.
He also had a word of caution for next week's world championship here.
It is not normal for the Gold Cup winner to also win the worlds, but we will be trying our best next week.
The wind built through the day, allowing the other fleets some great racing in the Solent, with enough sunshine to make it rather pleasant.