(repost from 5.5class.org) Defending world champions, John B, BAH 22, (Gavin McKinney, Lars Horn-Johannessen, Mathias Dahlman) put on the best performance on the second day of the 2018 International 5.5 Metre World Championship at the Royal Yacht Squadron in Cowes with a first and a second place to move to the top of the leaderboard. Last week's winner of the Scandinavian Gold Cup, Artemis XIV, NOR 57, (Kristian Nergaard, Kristoffer Spone, Trond Solli-Saether), remain in second while Marie-Françoise XIX, SUI 218, (Jürg Menzi, Jurgen Eiermann, Bo Selko) climb to third after winning the second race of the day.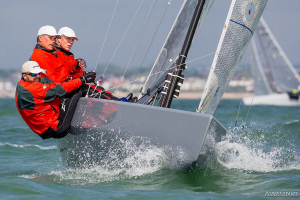 Tuesday threw another wide range of conditions at the 5.5 Metre fleet. Threats of rain didn't materialise but the wind went from a very light southerly to a moderate south-westerly during the first race, and with clearing skies and high temperatures, it was a perfect day to be sailing.
Race 2 of the series started after a short postponement and a painfully slow beat from the mainland towards East Cowes. New Moon, BAH 21, (Mark Holowesko, Christoph Burger, Peter Vlasov) rounded first but missed the incoming change. John B did not miss it and was first to gybe away to the west and the first to get the new breeze. They led at the gate and pulled away from the fleet for a huge win. The battle behind was between Duchess of B, NED 31, (V Bredero, Weibe de Witte, Paul Verhaar) and Artemis XIV, who eventually took second place.
The breeze had increased for the second race but decision over the current was still causing a huge split in the fleet with boats almost taking in both corners at some stage, looking for any advantage. After a slight mishap in the first race, Marie-Françoise XIX led round from Maitresse Gaat Vreemd, NED 35, (Piet van Opzeeland, Laurence Mead, Felix Trattner). These two battled it out at the front over the race of the race, but a problem with halyards on Maitresse Gaat Vreemd let the Swiss boat escape, while John B played the opposite side of the course to come back strong and take second.
Weibe de Witte from Duchess of B explained their race
The first race was very good. We had a poor start but we got up well in free air, but because of the windshift already at the top mark we gybed behind BAH 22 and that was were we made a head start. Kristian Nergaard was in third and then there were the three of us all the way round. We lost it on the last downwind after I made a little mistake with the buoys and he came to our left hand side and squeezed in between. But still a good race for us with the third, so quite satisfied with the day.
Results here.